Affiliate marketing is such a vast industry that it can seem overwhelming, especially to someone just getting started.

What do you focus on? How do you make it your full-time income? How do you become a super affiliate?

These questions are common among most affiliate marketers. Passive income is the allure of the aspiring super affiliate, but if truth be told, it's easier said than done.

Chasing success can lead to you spreading yourself too thin, trying too many things and then finding that success is always out of reach.

So what is it the really successful affiliate marketers know that the rest of the crew doesn't?

They have a proven formula for success, a blueprint. They don't just shoot in the dark but take preplanned action.

In this article, you will learn about one of the most successful plans for affiliate marketing. It's a plan created by super affiliate Spencer Mecham and a plan you can start implementing today.

What Is Affiliate Secrets 2.0?

Affiliate Secrets 2.0 is Spencer's course where he teaches all his affiliate marketing secrets and the path he took to become the #1 ClickFunnels affiliate, earning over $1M in affiliate commissions from them.

He breaks this blueprint down into actionable steps that can help the beginner as well as the advanced affiliate marketer.

Spencer knows what he's talking about and shares how you can take your affiliate marketing business to the next level. It's not about doing everything; it's about doing something and making that something count.

His course is the shortcut to success in affiliate marketing.

What Do You Learn?

The Affiliate Secrets 2.0 course is packed full of valuable and actionable information. There are eight modules teaching different aspects of affiliate marketing.

Module 1 is about the foundation of your business, your overall game plan and the structure of it. Spencer teaches how to set things up for the long-term, not just a quick buck now.

Module 2 is about finding the right niche and targeting the right people for that niche.

You learn about different types of traffic in module 3 and how to know what traffic sources are available and the best to use for affiliate marketing.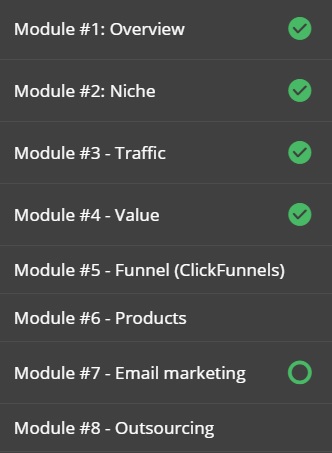 Value versus cost is the main subject of module 4 and how you can increase the value of the products in order to make more sales. This is a secret many affiliate marketers just starting out don't understand, but is definitely a game-changer.

Module 5 is about automating as much of your business as possible and doing it in the best and most efficient way possible using funnels. Spencer teaches about setting up systems to make your business run smoothly and efficiently.
Check out my article all about the leading funnel software on the market.
Module 6 is about promoting the products that are worth promoting and how to find them.

Email marketing is the focus of module 7.

And module 8 teaches about how he goes about outsourcing and finding the right people for his team.

There are also bonus sections as well, some taught by some leading experts in the affiliate marketing arena. These bonus sections have case studies, templates, and other helpful resources as well.

Affiliate Secrets 2.0 Pricing

The investment for the Affiliate Secrets 2.0 course is around $897, but increases every once in a while depending on the demand for it.

Some of you reading that may have just swallowed your gum. However, the value far outweighs the cost and if you apply the information in the course, it will pay for itself many times over.

How much is success worth? It's invaluable.

To invest in this course and, most especially apply what you learn, can be a life-changing and business-changing choice.

Make that life-changing decision and get Affiliate Secrets 2.0 today.
What Are People Saying About It?

What good is a course if it doesn't get people results? It's in what others say and have experienced because of this course that shows it's true value.

There are countless people who have shared their gratitude for and experience with the Affiliate Secrets 2.0 course. Many of those testimonials are found on Spencer Mecham's website.

One person on Spencer's website, Ky, said, "8 New Affiliate Trials, $550 Potential MRR all within my 14-day free trial. How'd I do it?… I got Spencer's course. This guy, as many others vouch is a genius."

Another person, Jessica, said, "Whoop just got my first ClickFunnels commission paid out all thanks to Spencer and his amazing affiliate course, thank you Spencer."

Fabi also said on Spencer's website, "The moment you check your ClickFunnels account! Thank you very much Spencer! Would have never been possible without your training!"

Many others talk about the success they have had because of this course. This course is definitely the golden ticket.

Is It Worth It?

Yes!

The affiliate marketers who think they can blindly figure things out on their own are the ones who disappear from the affiliate marketing world a short time later, or end up struggling for years before ultimately giving up.

If you're serious about affiliate marketing and making your online business work, you need a plan.

You need a map to show you the path to take in order to become a super affiliate.

And if you're like most people doing affiliate marketing, you want to become a super affiliate. But how do you do that? By following a proven plan to get you there as quickly as possible.

Spencer's Affiliate Secrets 2.0 course is that proven plan.

Sign up for Affiliate Secrets 2.0, apply the strategies, and see your affiliate commissions start rolling in.